WLR Autohaus Attracts $12.5M Sale | Business news from Arkansas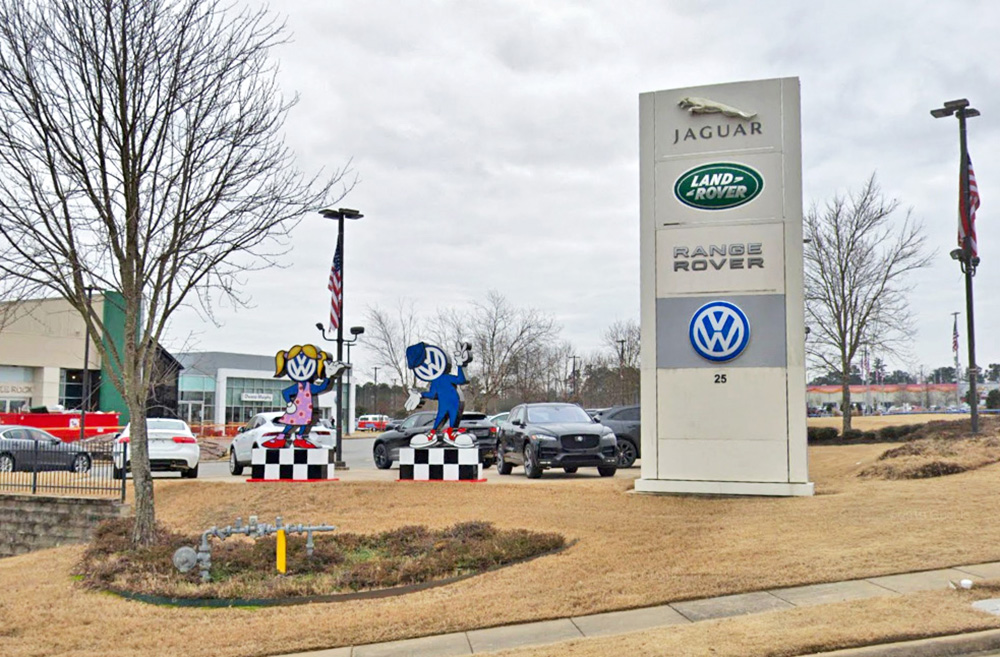 We could not ship the item.
A 30,727 SF car dealership project in West Little Rock weighed $12.5 million.
Riverside Properties LLC, owned by Lisenne Rockefeller, purchased the Jaguar-Land Rover-Volkswagen dealership at 25 Col. Glenn Plaza for $11.75 million.
Seller is LaRock Properties LLC, managed by Lee Owens.
Riverside also acquired an adjacent 2-acre property for $750,000 from Mo Properties LLC, owned by Owens.
Larock acquired his 7.08-acre property in August 2005 for $2.5 million from Glenn Ridge Crossings LLC, managed by Steve Hockersmith; and LLEJ IV LLC, led by Leonard Boen.
Mo Properties purchased its land in April 2013 for $882,000 from Landers Land Co. #7 LLC, owned by Steve Landers.
land acquisition
A 79.77 hectare property in east-north Little Rock raised $5.04 million.
KOLP Irrevocable Trust, led by Keith Richardson, acquired the property, which lies primarily along Forrester Road between East McCain Boulevard and East 46th Street.
Seller is Cross Street Service Inc., formerly owned by Don Salmon. The land was assembled as part of 14 deals totaling more than $4 million.
The sellers were Louise McKee, $50,000 and $195,000 in June 1990; Laverne Jones, $204,000 in August 1994; Dorothy Crone, $165,000 in November 1995; Brents Family Revocable Trust, run by Sophia Brents, $245,000 in June
1997; Maud Melvin, $140,000 in July 1998; Thelma Reed, $125,000 in July 1998; Billy Joe and Kathleen Reed, $18,000 in August 1998; Woodcrest Co. LLP, led by James Matthews, $1 million in April 2002; Elizabeth Greer, $16,000 in November 2002; Julia Bland, $135,000 in July 2003; the Yelenich Family Trust, led by RJ Yelenich, $1.3 million in September 2003; Rylwell LLC, led by Stephen Whitwell, $100,000 in March 2005; and Billy and Sue Morden and Wendell and Dianna Nicholson, $375,000 in March 2009.
Maly property
A 37.28-acre property in North Little Rock changed hands in a $2.56 million deal.
The Maly Group LLC, led by Smitha Thomas and the Dr. James T. Thomas Family Heritage Trust, purchased the land adjoining the west side of the former Wild River Country water park at 6820 Crystal Hill Road.
The seller is 2735 Villa Creek Ltd., a subsidiary of Dallas-based G Squared Inc.
The transaction represents the first step in the construction of a mixed-use development of apartments, restaurants and more, anchored by the Malys Entertainment Center with its T-Time golf course
The deal will be funded with a three-year, $1.9 million loan from the First Community Bank of Batesville.
2735 Villa Creek purchased the land from First National Mortgage Corp. in October 1998 for $1.6 million. on behalf of Parham Properties Inc., managed by John P. McKay Jr.
Chenal sites
Adjacent commercial estates in western Little Rock on the north side of Rahling Road at Rahling Circle were sold in tandem deals totaling $2.19 million.
Chenal Property Investors III LLC and Chenal Property Investors IV LLC, both led by Leonard Boen, purchased a 1.33 acre lot for $1.16 million and a 1.25 acre lot for PotlatchDeltic Real Estate LLC $1.03 million.
The country was acquired in December 2018 as part of Potlatch Corp's $1.2 billion merger. of Spokane, Wash. and El Dorado's Deltic Timber Corp. Bought.
dollar deal
A $9,090 general in North Little Rock drew a $1.37 million transaction.
Sigma Realty LLC of Grand Prairie, Texas acquired Project 11046 US 165 from GMan Properties LLC, led by Gary and Marketta Childers.
The 1.14-acre development was purchased in May 2019 by Oakley Investments LLC and COIT Properties LLC, both led by Stephen Cox, for $1 million.
NLR location
A 20-acre property in North Little Rock is under new ownership following a $1.25 million deal.
NLR Dev Partners LLC, led by Tim Martin, purchased the land on the south side of Fitzgerald Lane two tenths of a mile east of Counts Massie Road from John, Sidney, Charles and James Fitzgerald along with Florence Fitzgerald Jones.
The deal is backed by a two-year, $3.3 million loan from First Security Bank of Searcy.
The property was purchased by Ann Clifton in November 1974 for $95,000.
Midtown buys
A 5,400 SF retail project and a small housing project in midtown Little Rock brought in two deals valued at $687,500.
Forward Properties LLC, led by Andrew Adkins, sold the Midtown Center at 5911 H St. to H Street Holdings LLC, led by Stephanie Lamberth. The transaction is funded with a five-year loan of US$772,650 from First National Bank of Paragould.
Forward Properties sold the Townhouse Apartments at 822 N. Grant St. to SOM Investments LLC, led by Stephanie Lamberth, Olivia Rottman and Mechan Shermer.
The deal is funded with a $584,375 20-year loan from First National.
The 0.34 acre Midtown Center development was assembled into two contracts with Maxton Enterprises LLC led by Stephen Maxwell, $490,000 in September 2021; and in Rebecca Sullivan, $17,500 as of January 2022.
The 1-acre townhouse development was purchased in November 2009 by PE Rice Family LLC led by Lou Graham for $285,000.
Hard buy
A 6,200 SF service garage in North Little Rock changed hands for $682,000.
Clifton Warehouse Leasing LLC, led by Norman Clifton, acquired the 5007 E. Broadway project from Samson Heavy Hauling Co., led by Larry Ezell.
The 12 acre lot was purchased in April 1987 for $70,000 by Doretta Stephens Bright, Sam Stephens and Jennifer Stephens Baxley.
office transaction
A 7,500 SF office building in Little Rock sold for $400,000.
Rock Capital Fund LLC, led by Vincent Renda, purchased Cantrell View Plaza at 1900 N. Bryant St. Seller is Haybar Properties LLC, led by Bryan Hosto.
The deal is backed by a five-year, $438,175 loan from the Arkansas Federal Credit Union of Little Rock.
The 0.34 acre development was acquired in November 2016 by PDC LLC led by Gene Pfeifer for $300,000.
Vet building
A 2,918 SF veterinary hospital in Little Rock attracted a $385,000 transaction.
Otter Creek Animal Hospital, directed by John Miller, sold its 1 Otter Creek Court project to Betts Real Estate Enterprises Inc., directed by Craig Betts.
The deal will be funded with a five-year, $265,000 loan from First Security Bank.
The 0.49 acre property was purchased in March 1998 by Otter Creek Land Co. led by Tommy Hodges for $55,000.
watershed
Approximately 45.4 acres near the community of Little Italy in western Pulaski County are under new ownership following a $215,000 deal.
Central Arkansas Water acquired the land, most of which is located on the north side of Hundley Road, one mile west of Highway 300. Vendor is Faulkner Meadows LLC, managed by John Aclin.
The Reece Creek property was acquired in July 1991 in a $60,000 deal with Little Italy Co. led by Eugene Mazzanti.
WLR website
A 2 acre lot in western Little Rock fetched $155,000.
Systems Contracting Inc., led by Lee Morgan, purchased land near the southeast corner of Huron Lane and Green Mountain Drive. Seller is Signal Media Of Arkansas Inc., managed by Terri Mahan.
Signal Media acquired the land in May 2007 in a $540,000 deal with Tynez Inc. led by Nezih Erkman.