With Austin Infineon chips on board, Volkswagen's ID.4 tries to set a world record for the longest road trip in an electric vehicle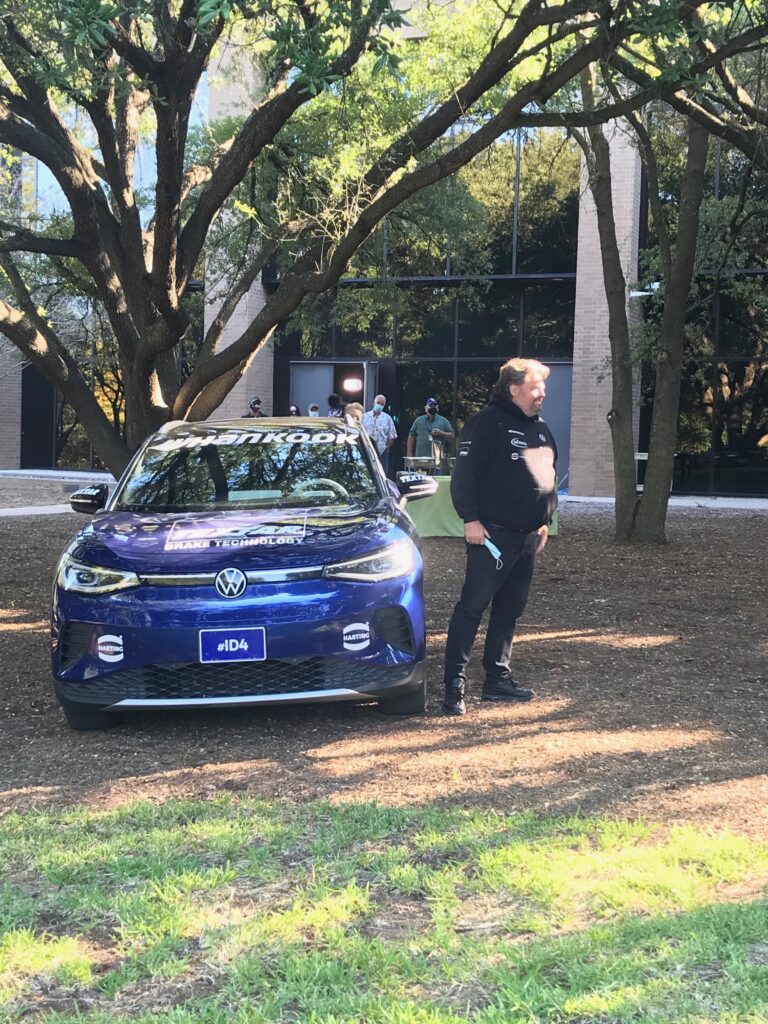 A blue Volkswagen ID.4 rolled into Austin on Friday to break a Guinness world record for the longest drive in an electric vehicle.
"This world record should show that an electric car can do the same thing as a car with a combustion engine," said Rainer Zietlow, a professional driver who holds several electric vehicle world records.
On Friday morning, Zietlow drove the Volkswagen ID.4 2021 onto the lawn of the Infineon semiconductor plant in Austin. It was the fourth stop on a 37,000 mile road trip through 48 states that began July 18NS in Herndon, Virginia, and ends October 18NS. The stops were at Infineon locations in the United States, including Austin, Livonia, Michigan, San Jose, and El Segundo, California. The final stop is in Washington, DC
Zietlow and his co-driver Derek Collins from Kansas City, Missouri, stopped at the Infineon fab in Austin because they played a key role in operating the Volkswagen ID-4.
The Austin-based manufacturing facility, the largest for Infineon in North America, makes dozens of chips that perform various functions in the car, including adaptive cruise control, emergency braking, Wi-Fi and Bluetooth communications. Infineon even makes the chips that power the powertrain.
Zietlow said he couldn't see or feel the Infineon chips, but that's the point. You are the magic under the hood.
"I have a good feeling that Infineon is on board," said Zietlow. He already holds the world record with the Volkswagen ID-3, a smaller version of the car, with Infineon on board in Germany, which drives 18,000 miles and visits 850 Volkswagen dealers.
"Our semiconductors are at the heart of vehicle electrification and charging infrastructure," said Lars Ullrich, Vice President Automotive at Infineon Technologies Americas, in a press release. "By increasing range, efficiency and accessibility, we are helping the automotive industry to successfully implement the fundamental change to electromobility – to protect the environment without impairing the flexibility and comfort of the driver."
The ID.4 is the first fully electric SUV from Volkswagen and the brand's first worldwide electric vehicle. Priced at $ 39,995, the vehicle can travel up to 250 miles on a fully charged battery. Zietlow uses a mobile phone app to search for his nearest charging station while on the go. It takes about 35 minutes to charge the battery to 85 percent, Zietlow said. Volkswagen has partnered with Electrify America, which has 600 charging stations in the United States and plans to add 300 more within two years, he said. Most of the charging points were in Walmart stores near the freeway, he said.
Infineon already has plans to expand the Austin factory through the CHIPS for America Act, a bill pending in Congress tabled by Texas Senator John Cornyn and others, said Carl Bonfiglio with Infineon's Michigan-based auto company. The Volkswagen ID.4 alone has more than 50 Infineon chips. The CHIPS for America Act would invest tens of billions of dollars in semiconductor manufacturing incentives and research initiatives over the next decade to strengthen and maintain American leadership in chip technology.
San Jose-based Infineon Technologies entered the Austin market with the acquisition of Cypress Semiconductor. The sale was completed in April 2020. The Austin campus was previously an AMD location. The factory, built in 1995, produces chips from wafers with a diameter of 200 mm or 8 inches. The Austin Infineon site has 1,000 employees and covers 1.5 million square feet, of which 115,000 is clean room space, said Steve James, vice president of Infineon's Wafer Fab Operations. The plan is to add 40,000 square feet of clean room space, he said.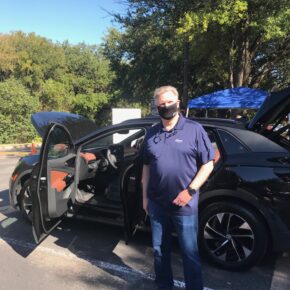 About 70 percent of the world's cars contain chips that are made in Austin, James said. More than 35 electric and plug-in hybrid models with a drive train with power semiconductors from Infineon will go into production worldwide this year. Infineon has been in the automotive business for more than 35 years. Electric cars have a lot more semiconductors than conventional cars, Bonfiglio said. This also puts additional strain on the semiconductor industry, as more and more electric vehicles are on the road.
Infineon also specializes in security. The chip found in all US passports is an Infineon chip.
When cars connect to the internet, it is important to ensure that communication is secure and that no hackers can break into the car. This is very important at Infineon.
"Infineon is committed to providing technology that you can trust," said Bonfiglio.