VW bus enthusiasts keep coming back for more buses at the bridge | Local News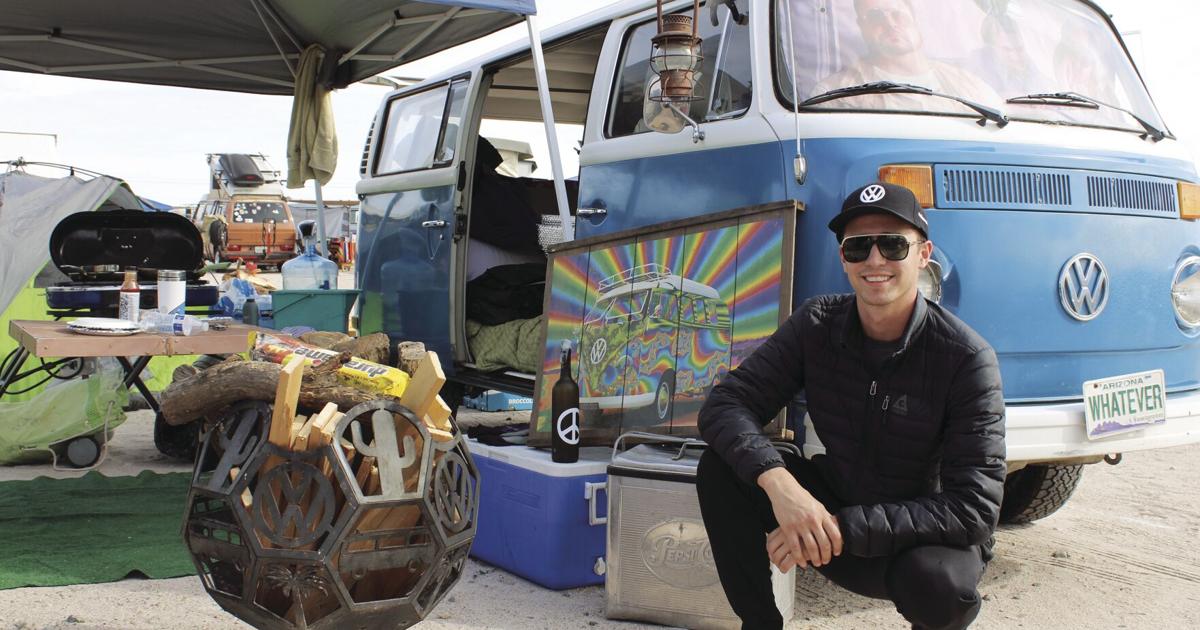 There is nothing quite like the feeling of freedom and simplicity that comes with life on the road in a bus. For a quarter of a century, people have come together on the shores of Lake Havasu City to share a love of the lifestyle.
Buses by the Bridge was started in 1991 by John Howard, a local Volkswagen bus enthusiast and Volkswagen service partner. The event returned to Havasu in 1996 after Howard created the Jerome Jamboree in Jerome, Arizona.
About 50 buses attended the first meeting. It was originally held at the Crazy Horse Campground, but by the time word got around the location was too expensive to accommodate more buses. It was eventually moved to Lake Havasu State Park and was the first event for which the park allowed overnight camping. The event has now grown to hundreds, making it one of the largest bus gatherings in the nation.
2022 looks set to be an excellent year for Buses by the Bridge, said Lake Havasu State Park Manager Dan Roddy. About 200 buses lined up Thursday morning to get into the Windsor 4 gate before 9am, according to Roddy
"This is the best bus show in the west," said Buses by the Bridge attendee Mike. He did not want to give his last name. Mike, his companion Karen, and their dog Remmington from Riverside, California have been coming to the Havasu reunion for years.
"We like the weather, we like to drink and we like to drive our Volkswagen buses," said Mike. "Of course not at the same time."
Mike and Karen both love their free-spirited lives on the road, and gatherings like Buses are the perfect way to meet other like-minded, eclectic spirits, they said.
"We can share stories, swap bus parts and just have fun," Mike said. "It's fucking radical."
Bailey Roth and Alfredo Figueroa from Tucson came with a group of their friends and set up their own small campground with six buses. It's Roth's first time at Buses and Figueroa's second, but her other friends have been coming for years.
Roth first got on buses as a child. His father considered buying a Volkswagen that had a huge painted rainbow on one side and a painted scene from the Beatles album cover Abbey Road on the other. Roth's first reaction was a hard pass.
"I didn't mean to get dropped from school with that," he laughed. But now he wishes he was behind the wheel.
"I've always liked the look of Volkswagen," said Roth. He now owns a blue van and a Volkswagen truck.
Figueroa first got on buses eight years ago. His VW Vanagon Syncro is equipped with all-wheel drive and ready for any adventure.
"I bought a Vanagon and I loved it," he said. "Then I got on oriel buses."
Buses at the bridge are open to the public on Saturdays and Sundays. Tickets are $5 per person for the entire weekend. Children up to 17 years are free. The event features freestyle BMX, cornhole, live music, raffles, bouncy castles, a pancake breakfast at 7am on Sunday and more. Visit bussbythebridge.com for the full schedule of events.