This is how the two electric vehicles compare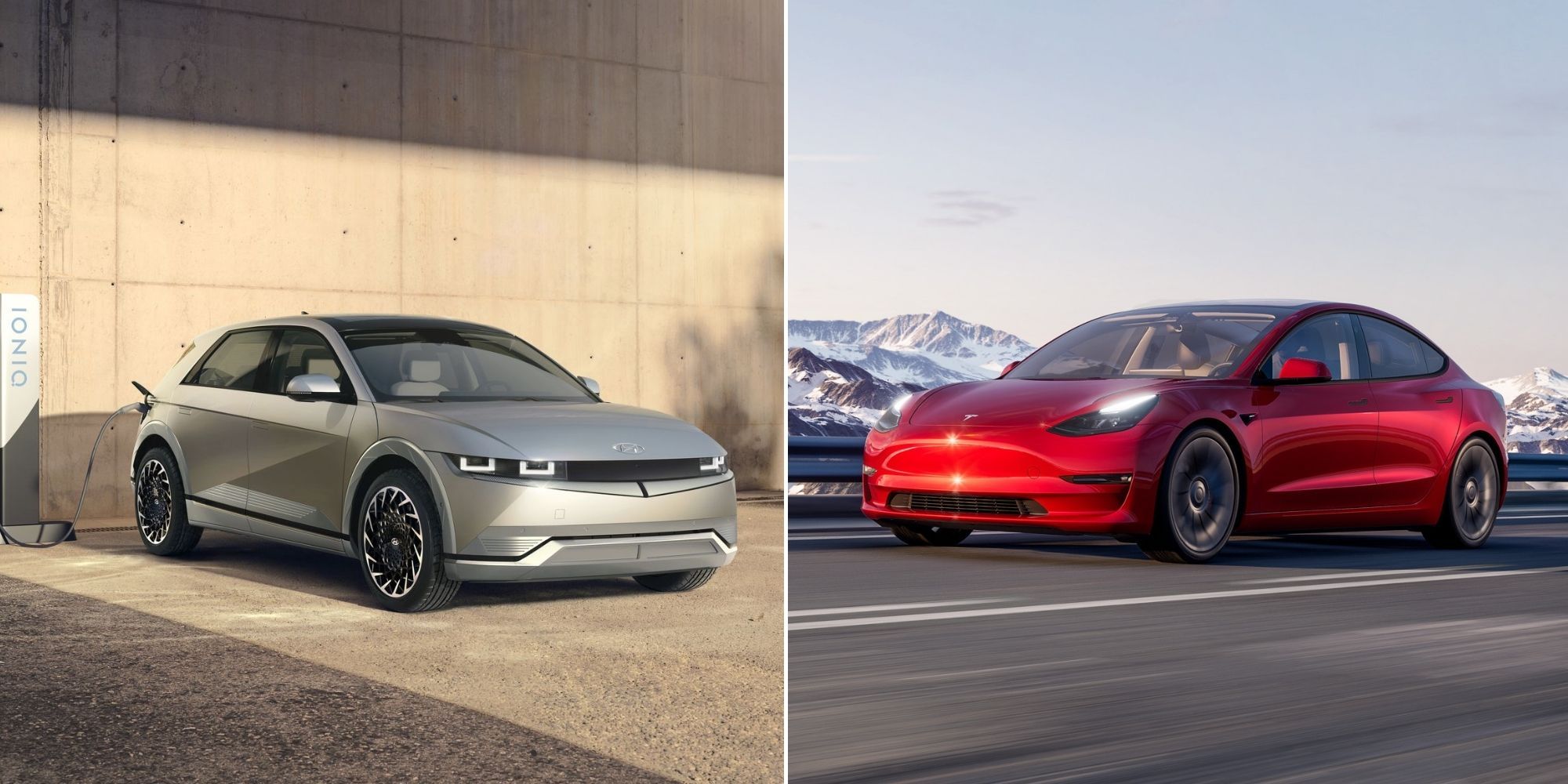 The Ioniq 5 is Hyundai's latest EV to take on the popular Tesla Model 3. Here's a good look at these two electric cars.
The Hyundai Ioniq 5 electric vehicle has become quite popular lately, but has yet to prove itself against the Tesla Model 3, one of the most sought-after electric cars. A few years ago, there were few options if you wanted an affordable electric car. EV prices are still not as low as traditional gas-powered cars, but a combination of market competition, tax incentives and developments in battery technology have made them quite accessible to many buyers.
When Tesla introduced its Model S sedan, other manufacturers also brought their electric vehicles into ecstasy. Tesla reigned supreme in its early years, but in 2022 it faces stiff competition from Volkswagen, Rivian, Polestar, Chevrolet, and others. South Korean automaker Hyundai has also become another serious rival to Tesla's dominance. One of the most practical EVs in Hyundai's stable, the Kona offers great range at a reasonable price. However, to rival the Tesla Model 3, Hyundai needed a car with a little more personality and performance.
See Also: Toyota's Response to Tesla's Model Y Sees Wheel Falling Recall
That's why the Hyundai Ioniq 5 exists. It's a direct competitor to the Tesla Model 3 and manages to bring something unique to the EV market with its design and features. In terms of overall design, the Hyundai Ioniq 5 looks like a fusion of retro and modern design. Its sharp body lines and angular design make it stand out from the crowd. Meanwhile, the Tesla Model 3 recently received a minor facelift and still maintains a performance-oriented design language.
Athletic performance vs. comfort
The Tesla Model 3 is a sportier car overall. Even a base Tesla Model 3 with rear wheel drive (RWD) can do 0-60 MPH in 5.8 seconds. In addition, its handling and suspension are designed to handle it. According to reviews, the EV's steering is nimble and agile. Meanwhile, the suspension is fairly stiff, making handling easier but offering a less comfortable ride overall. It's the slowest Model 3 in Tesla's stable and still packs a lot of power. The Hyundai Ioniq 5, on the other hand, offers less relative performance but is still a sufficiently fast vehicle overall. The Ioniq 5 RWD variant accelerates from 0 to 60 MPH in 6.9 seconds. Unlike the Model 3, the Hyundai Ioniq 5 offers a smoother and more comfortable ride quality. This means that the car's suspension system can absorb road bumps fairly easily, theoretically making the car less fatiguing to drive for long periods of time.
Regarding the interior, both cars have their own theme. First of all, the Tesla Model 3 has a very minimalistic interior. Inside, there's just a giant infotainment touchscreen that also includes driving information like speed and distance. Additionally, the Model 3's interior lacks physical buttons, as only two dials on the steering wheel can be used to control the infotainment system. Meanwhile, the Hyundai Ioniq 5 has an interior not unlike any other modern car, with two large touchscreens including an infotainment system and a driver's console. The interior quality of both cars is almost the same, but the Model 3 uses more soft-touch material and looks more premium. Additionally, the driver's side A-pillar is much thicker on the Model 3 than on the Ioniq 5, which could be an issue for some users, especially newer drivers. Both cars are also equipped with some form of autonomous driving system. On the Model 3, users get the Tesla Autopilot system standard, which offers features like Lake Keep Assist, Adaptive Cruise Control, and Emergency Collision Mitigation. Tesla users also have the option to upgrade to the Full Self-Driving package, which further future-proofs the Model 3 for $12,000. Meanwhile, the Hyundai Ioniq 5 will also get the Highway Driving Assist 2 system, which helps maintain distance from vehicles, adjust speed and keep the car in a designated lane while driving on the highway.
But by far the most important thing in any electric vehicle is range. The Hyundai Ioniq 5 RWD version with the larger battery has a claimed range of 303 miles, but the Tesla Model 3 RWD has an official range of 267 miles. When it comes to charging, however, Tesla leads the way because of its widespread supercharging network. The Hyundai Ioniq 5, on the other hand, has an impressive charging limit of 220kW, but needs a high-speed charger to take full advantage of it. As for pricing, the Hyundai Ioniq 5 RWD version with a larger battery effectively costs around $37,350 under the federal EV tax credit. However, Tesla doesn't qualify for this specific benefit, so it costs $46,990 in the US. In summary, the Tesla Model 3 remains the sportier and more performance-oriented entry-level electric sedan. It has a better autonomous driving system and supports widespread charging infrastructure. The Hyundai Ioniq 5 EV, on the other hand, it is a practical yet powerful electric car. Its strengths include a long range, a comfortable ride quality and an overall low price.
Next: Why wireless charging could be the next big EV upgrade
Source: Hyundai
Nothing Phone (1) Preview: What to Expect at July's Event