The Volkswagen ID.4 2021 is people's electric car: Look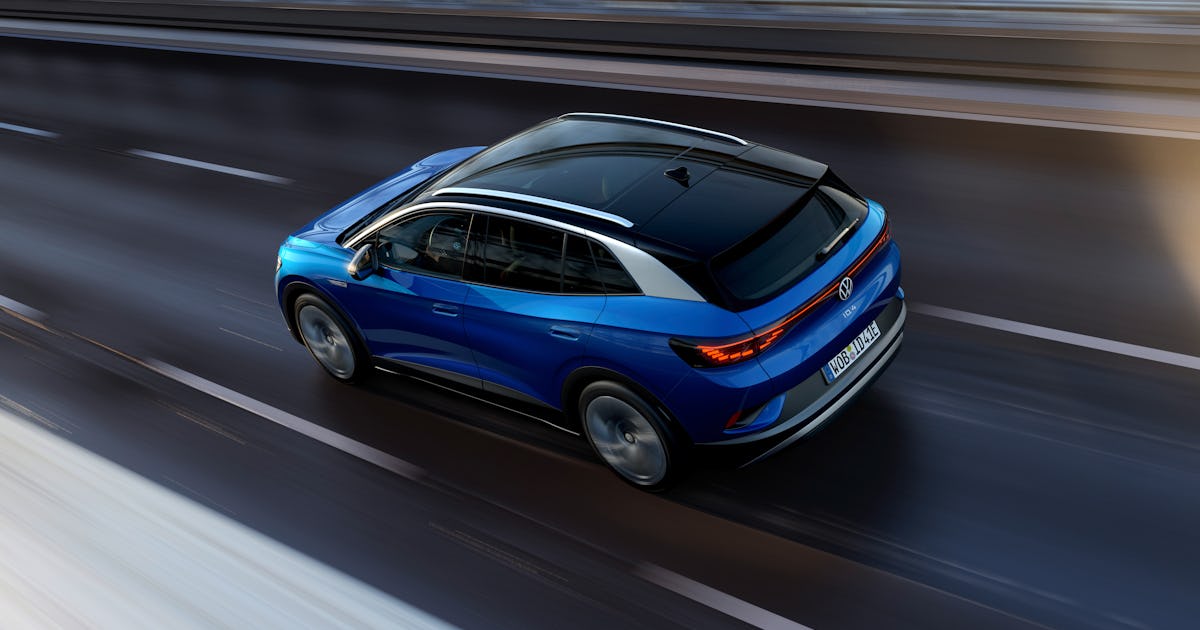 The era of the uncompromising electric car is here.
Thanks to new, cheaper electric cars from Ford, BMW, Hyundai and Volkswagen, we are spoiled for choice – more will follow. They're inexpensive, especially with the federal and state tax credits available.
They have a decent range and charge quickly on DC quick chargers, and they can easily be used as everyday vehicles without making any significant compromises.
So this week we come to my test car: the strangely named and curiously designed Volkswagen ID.4.
Volkswagen says the ID stands for "intelligent design, identity and visionary technologies" and 4 stands for the compact SUV segment. There is an ID.3 compact electric car that is not available in the US and a larger ID.5 that is coming later.
So the name sounds like it was invented in a marketing brainstorming session and doesn't exactly stir feelings in the buyer. It's not the beetle.
I ran into … strange Design decisions.
But Volkswagen has always been a little different in design, and the ID.4 is the same. While testing the car, I kept coming across weird design decisions.
Here is an example: Most four-door cars also have four windows that can go up and down. And there are usually four switches on the driver's door that can be used to open and close these windows. You know, a button for every window.
But the Volkswagen designers apparently thought well, we don't need that. let us two Switch, one each for left and right. And then we'll add a touch-sensitive toggle button that lets you set whether you control the front or rear windows. This will be neat and innovative!
So instead of just pressing the switch to fold down the rear window, you first have to find out whether the light marked "rear" is on or not. If it doesn't, you have to tap on it (it's not a button, it's a touch-sensitive switch) and then use the button to lower the rear window.
That means If you want to shut down all of the windows you will need to press down both switches to get the fronts, tap "Back" and then press both switches down again. It's exciting and different for about four seconds, and then you realize, no, it's just bad design.
Then there are the climate and radio volume controls that use capacitive touch sensors that are located just below the large central infotainment screen. Again, you have to look away from the road to use it, and there's no useful feedback as you tap away to raise or lower your preferred temperature settings.
And of course, There is no volume controlwhich is the worst possible design decision for a vehicle interior. Instead, you get a swipe / tap situation to change the volume. At least there are louder / quieter buttons on the steering wheel.
In the end, We have the odd driving mode selector. Instead of a rotating button like Ford or a crazy double-tap joystick like Volvo, VW has a button protruding from the steering wheel. Rotate it forward to drive, backward to reverse, or push a button on the end to park.
I really like it, and I think it's the best of the newfangled transmission control setups I've tested. Hyundai is using a similar format in the upcoming Ioniq 5, so this one may have some legs. It saves space between the seats for cup holders and phone chargers, but is still intuitive and easy to use.
A kind Thing: you get in the car, step on the brakes and brake it turns on.
Another nice thing about the ID.4 is that you don't have to turn it on and off. There is a start / stop button but I never touched it. Instead, you get in the car, step on the brakes and it turns on. Turn the button to drive and off you go. When you're done, press the park button, get out and lock the doors. There is no third step. It's like a Tesla, and you'll be amazed how quickly you get used to not turning your car on and off.
But different than When it comes to making these weird design decisions, the ID.4 does an excellent job. The 82 kWh battery promises a total range of around 400 kilometers and is able to quickly charge 125 kW direct current, which provides a 5-80 percent charging time of 38 minutes on a properly equipped charger.
… The ID.4 is Excellent.
Volkswagen throws in three years of unlimited charging at Electrify America charging stations (which it owns) with every ID.4, which is a nice bonus.
It's comfortable and attractive, with a modern, but not too strange, design. It's only rear-wheel drive at the moment, but a dual-engine, all-wheel drive version is hitting the road. Eventually it will be built at Volkswagen in Chattanooga, Tennessee, but American ID.4 cars will be made in Germany for the time being.
My ID.4 1st edition Launch Car was listed at $ 45,190, which drops from $ 7,500 to $ 37,690 after a tax credit, which is priced close to the ballpark of comparable SUVs like the Toyota RAV4.
If you weren't sure about electric cars, this new generation of electric vehicles is great and essentially uncompromising. The hardest part is choosing which one to buy.
Subscribe to something PRNDL, Jordan Golson's newsletter for car reviews, free on Substack. This review is also published in the North State Journal.