Tesla Model 3 Surpasses Toyota Camry Sales! Electric car brand outperforms Volkswagen, MG and Subaru in Australia as EV sales soar – Car News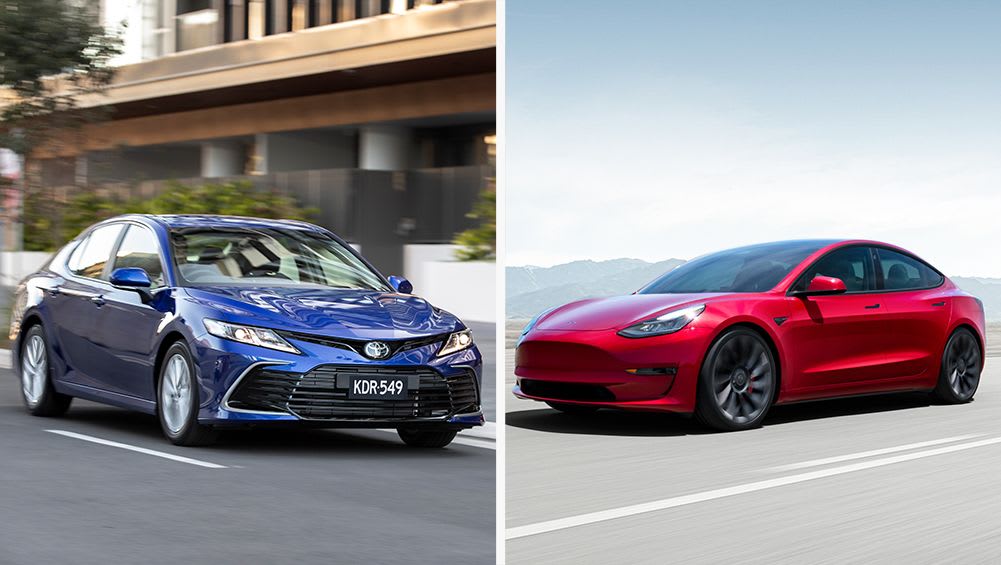 The Tesla Model 3 is officially more popular in Australia than the humble Toyota Camry!
The Chinese-made electric car has overtaken the Camry, which has long been the most popular mid-size or large sedan in the country, according to September sales figures released today by the Federal Chamber of Automotive Industries (FCAI).
Tesla sold 1,610 Model 3 sedans last month for a total of 8,647 year-to-date (YTD) units, which is almost 600 more than the Camry's 8,073 YTD number.
Read more about Australia's new car sales
In fact, September was a huge month for Tesla, which recorded a total of 5969 sales to finish sixth overall. That number was largely due to a massive landing of the Model Y last month, which equated to 4359 sales for the electric SUV.
Incredibly, this meant the Model Y was the third best-selling vehicle in Australia last month, behind two mostly diesel-powered one-ton Utes – the best-selling Toyota HiLux and the Ford Ranger.
Currently, Tesla ranks 16th in overall YTD sales behind Suzuki and GWM but ahead of Honda, LDV and Audi.
Last month was a big month for EVs, according to FCAI figures, with a whopping 7,247 EV registrations in September. That's not only a 1,455 percent increase over total EV sales for September 2021, but also far more than the 5,141 combined hybrid and plug-in hybrid sales last month.
Hybrid sales alone were down 33.7 percent from the same month last year, but that's almost certainly a result of ongoing supply issues for leading hybrid brand Toyota. This is reflected in the result of the SUV RAV4, which fell by 45.3 percent despite eighth place overall.
Camry is now the second best selling sedan in Australia.
PHEV sales were also up 74.4 percent, and that's likely the result of the new-generation Mitsubishi Outlander plug-in, which went on sale in August, boosting overall Outlander sales (1879, +80.2%) .
Total sales last month were 93,555, up 12.3 percent from September 2021, but the FCAI warned that logistics and supply chain issues remained "problematic" for the industry.
Toyota continued to lead the market last month, but supply issues weighed heavily on overall sales as Brand T was one of only two top 10 automakers to lose ground. Toyota sold 14,852, down 26.5 percent. On rare occasions, Toyota only had two models in the top 10 – the HiLux (5170, +42.2%) and the RAV4 (1856). Usually they were accompanied by the Corolla and occasionally the Prado.
Kia (7290, +41.4%) snatched second place last month, relegating Mazda (7259, +10.7%) to third, beating the Japanese marque by just 31 units.
Kia's result was supported by strong Sportage sales (1775, +217.5%), enough for ninth place, while Mazda's mid-size SUV contender, the CX-5 (2439, +72.4%), rose scored fourth place.
The Model Y slipped to third place overall in September.
Mitsubishi (6,784, +41.3%) had another big month to finish in fourth place with a massive catch for the Triton (2,319, +310.4%) that saw the Ute up ended up in fifth place. The Triton edged out its rival Isuzu D-Max by almost 400 sales.
Ford (6635, +15.2%) made up some ground to finish fifth overall, thanks to slowly improving supply of its new generation Ranger (4890, +16.7%), which finished second overall.
Ford's strong result was bad news for Hyundai (6501), which was relegated to sixth overall despite a 19.1 percent increase in sales from last September. The small car i30 (1733, -14.8%) was the only model in the top 10.
After Tesla, Volkswagen (3698, -2.5%) in eighth place was the only other automaker besides Toyota to slip in September.
The Triton helped Mitsubishi land another big catch last month.
MG (3261, +8.3%) continued to post growth over the past month, underscoring the continued strength of Chinese brands in Australia. As the FCAI pointed out, China was Australia's third largest supplier of vehicles last month, behind Japan and Thailand.
Subaru (3167, +3.4%) rounded out the top 10, only keeping Isuzu out of the list.
One of the biggest shocks was Nissan (1885, -33.1%), which ranked 14th last month, lagging behind premium brands like Mercedes-Benz and BMW. A lack of deliveries of key models like the Qashqai and Pathfinder is boding badly for the Japanese automaker's fortunes this year.
In terms of individual state and territory sales, ACT (+67.7%), New South Wales (+20.8%), Queensland (+2.9%) and Victoria (+23.8%) recorded in the last month all gains, while Northern Territory (-9.8%), South Australia (-2.2%) and Western Australia (-6.0%) all declined.
The most popular brands in September 2022
| | | | |
| --- | --- | --- | --- |
| ranking | brand | sale | variance% |
| 1 | Toyota | 14,852 | -26.5 |
| 2 | kia | 7290 | +41.4 |
| 3 | Mazda | 7259 | +10.7 |
| 4 | Mitsubishi | 6784 | +47.3 |
| 5 | ford | 6635 | +15.2 |
| 6 | Hyundai | 6501 | +19.1 |
| 7 | Tesla | 5969 | – |
| 8th | Volkswagen | 3698 | -2.5 |
| 9 | MG | 3261 | +8.3 |
| 10 | Subaru | 3167 | +3.4 |
The most popular models of September 2022
| | | | |
| --- | --- | --- | --- |
| ranking | model | sale | variance% |
| 1 | Toyota HiLux | 5170 | +42.2 |
| 2 | Ford Ranger | 4890 | +16.7 |
| 3 | Tesla Model Y | 4359 | – |
| 4 | Mazda CX-5 | 2439 | +72.4 |
| 5 | Mitsubishi Triton | 2319 | +310.4 |
| 6 | Isuzu D Max | 1924 | +5.0 |
| 7 | Mitsubishi Outlander | 1879 | +80.2 |
| 8th | Toyota RAV4 | 1856 | -45.3 |
| 9 | Kia Sportage | 1775 | +217.5 |
| 10 | Hyundai i30 | 1733 | -14.8 |