Talk to Sirish Visa about all things Volkswagen Motorsport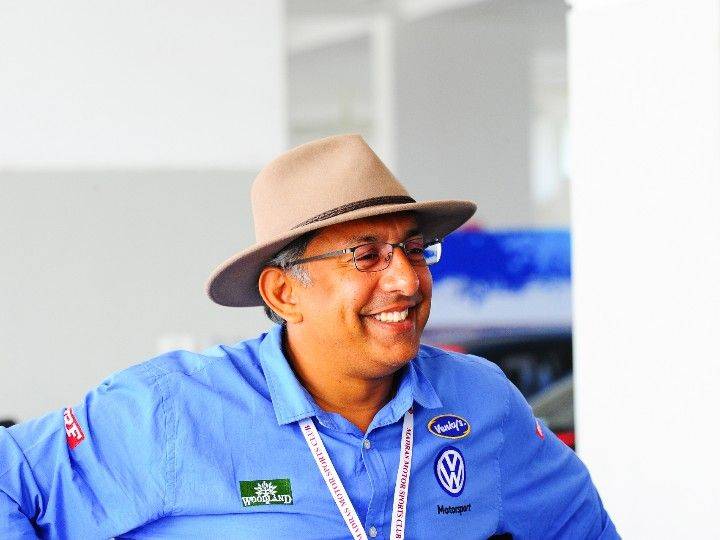 We all know that the ongoing COVID-19 pandemic has caused many things to grind to a halt around the world. Including Volkswagen Motorsport India, which had to postpone its racing season by a whole year due to the pandemic. Fast forward to 2021 and you're back in the race with the Volkswagen Polo National Championship.
The Volkswagen Motorsport India crew should be given credit for having managed to race again. At the top, however, is none other than Sirish Vissa, the head of VW Motorsport India. Since 2014, Vissa has overseen the transition from polo to vento, then to ameo and finishing polo in a stronger form for their national championships.
We all know that adaptability is a crucial skill in the world of motorsport, with the newest challenge now being to race safely in a pandemic. At the second round of the Volkswagen Polo National Championship in motorsport, we met with the head of motorsport at VW.
Q- It's been a year off due to the COVID-19 pandemic, but now we're finally back on track for the MRF MMSC Volkswagen Polo National Championship. What hurdles did you have to overcome in order to race again?
Sirish Visa: Motorsport is so demanding that you need to stay fresh. So all of my boys, including me, spent a year and a half working in the office and from home. When we actually started racing again, we had to learn a lot of new things that we somehow forgot. That was a challenge. If you look at this weekend, we had things more or less under control, we are in the second weekend of the championship. But if you'd come over and see what we did in our September races it was a nightmare because it's just muscle memory.
So if you do something repeatedly, don't think about it. For someone like me, who has been doing this for a lot longer than my boys, I still have some of that muscle memory, it never goes away. But my people who do this, who work on cars, don't do this regularly now. What lasts today, let's say a few hours in September, took us two or three times as long because we just couldn't get into the zone. When you are in the zone it all comes together. The moment you are out of the zone, you struggle to do simple things. And that's the biggest challenge.
Other than that, of course, it's all the normal stuff we've all been through, namely every day there is a new protocol, what is required for tests and vaccinations, what certificate you need to travel here for, go there. So it's a nightmare.
Q- During the one-year break, Volkswagen Motorsport entered the realm of esports with the Volkswagen Virtual Racing Championship. How was the response and how much did it affect the applications for this year's championship?
SV: As for the virtual championship, we actually had an incredibly good response, as more than 3500 people had registered. So we actually went through several laps to get it to the 28-car field that we had during the current championship. We had people from South Africa, Dubai, the US and Europe attending. The difference is that we usually have an average of around 1500-1800 participants in a selection process, more than double that. So it was a tremendous response.
Q- Speaking of participants: We all know that Volkswagen Motorsport has a selection program before the starting grid. Apart from speed, what qualities do you look for in a driver?
SV: The selection process is actually quite a mature process at the moment because we've been doing it for so many years. So now we're doing it in karting just because it's easier and more accessible to everyone. So we look first at the fitness side and then at their ability to learn and understand instructions as we criticize their driving during the selection process. We tell them okay, you're doing this really wrong, work on it, you have to do it this way.
Then of course we do them through various exercises related to braking, cornering and so on. So we judge them by their ideal line and their speed. We used to do the selection process in the racing car, but it used to be that with 20 people in a racing car you can actually take care and do all of this. But when you have about 200 people to get through in two days, it's very difficult.
So in karting because you don't have some of the complexities of a racing car. It's a lot easier now. You can actually rate all these different criteria, we have a rating system where everything comes together and we then pull the result from it.
Q- We know the season is still very early, but who do you think have been your top three drivers so far?
SV: One of them today is the Pole Seeker, Sai, Sanjay. He pulled his lap out of nowhere. I mean, he's one of those guys who's just very calm, keeps to himself, no drama. He gets into a car and lets his driving speak for itself. We also have Aditya Swaminathan and Arya Singh. There is also the usual crew who have ridden with us before, like Saurav, Pratik and Aiman ​​Sadat. So there are so many of them, and what used to be the fast and the slow is completely different now. I mean, there isn't any math that you can use to put these guys in line.
Q- Volkswagen's motorsport journey in India began a little more than 10 years ago with the Polo. Now we come full circle again with the Polo, albeit in a stronger form than before. What was the reason for switching back to polo?
SV: While we are giving back to society, it is also a marketing tool for us. When we started, the goal was to showcase what was then TDI technology. When we started in 2010, when someone said diesel, it was like a taxi or a bus. So nobody expected a diesel car to be fun. That was one reason to switch to the TDI engine. Then it was about the TSI engine, which was again an emerging technology that was very current, and also on DSG boxes.
When we started using DSG everyone said automatics, they'll never work on a racetrack, it's for old folks, but it wasn't. And so we somehow continue to meander. When we went to the Ameo Cup, it was when the Ameo hit the market. We wanted to show that this isn't just a cheap car. That was actually a fantastic art of driving dynamics. After all of this when we wanted to do something we wanted to celebrate in India for over 10 years. What could be nicer than going back to polo?
Q- Given that Volkswagen is going full steam ahead on the electrification route, are there any signs that the Volkswagen Motorsport Championships here in India will soon be going electric?
SV: We'd love to see something like that as a demonstrator. But that's not practical at the moment because it only makes sense if we are actually green in the bigger picture. If I use a racing version of the ID.3 today, for example, it's easy to do. But the problem is, if I use a diesel generator to power and charge these batteries, what way am I cleaner?
So until we actually make it a sustainable situation, I don't see ourselves doing it. What makes more sense for us is to look at things where we might be looking for a larger blend of ethanol or something similar. Hybrids only work to a limited extent in motorsport. This is because with a hybrid you take advantage of the fact that you are braking to regenerate and recharge your batteries and then use them.
That would give us a little boost, like a 'push to pass', but on a larger scale it doesn't make sense for the investment we would be making, and also in terms of the racing car mission. So it would have to be something that would make a big difference to us in terms of sustainability.
Q- What do you think of the motorsport scene in India today when you consider that we have new tracks and new series in the pipeline.
SV: I can't wait for the Nanoli Speedway to come, I really hope it does because it will be a home track for us. But even when it comes to series, there is a lot of conversation going on about different things. My experience in India is that there is a lot of fantastic conversations but until you actually see it it is empty. So let her assemble it, I would love it. I can't wait to see more series, more tracks and more manufacturers. Unfortunately, the reality today is that only Volkswagen supports most of motorsport in India.
Q- What is the roadmap for VW Motorsport in India for the future?
SV: We are always looking for innovative things. So today we essentially want to conclude our current championship. While this is happening, let's look at what we will do in the future. Because ultimately we have to be able to contribute to one thing in everything we do, virtually to zero and also to what we do as a brand.
So it is difficult for me to give you a clear path because there is none. There are many different options and permutations and combinations that we are working on. But I can tell you this much that we are dedicated to motorsport in India. We will continue to be involved in motorsport in India. And it is precisely how we do and what we do that we work on.