Suspension issues on my 3 year old Vento TSI and VW's apathetic response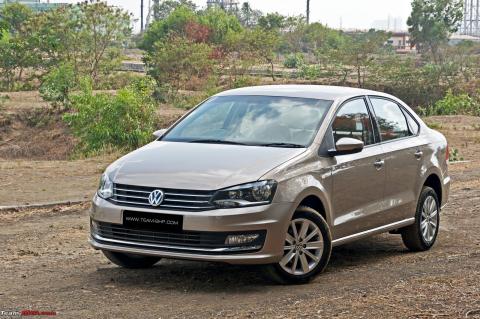 I loved the car's suspension when it was new and it was comfortable and easy to handle. Now the suspension was so stiff over time that it was starting to give me back pain.
BHPian Rahul_ recently shared with other enthusiasts.
Problems with the suspension in my car:
My Vento TSI Highline+ was manufactured/purchased in June 2019 and currently completes 3 years and ~35,000 km. I've been struggling with the stiff suspension of my car for a year. I've tried several things like contacting multiple ASCs and upgrading my tires to Michelin P4STs. Changing the tires helped a little, but the problem kept getting worse.
All my visits to the service center would have been in vain as the staff would test drive it and simply say it is a sporty car and so the suspension should be stiff. I loved the car's suspension when it was new and it was comfortable and easy to handle. Now the suspension had become so stiff over time that it was beginning to give me back pain and was extremely uncomfortable for my wife, who was also undergoing very little medical treatment. The condition got so bad that I even started thinking that my car purchase was a mistake and that I should sell it – all in just 2 years of purchase.
The service center guys never said the suspension couldn't fail this early. It should be noted that the suspension was never opened and checked.
After reaching out to some helpful forum members here, I decided to give another try to fix the blocking. I spoke to a contact in Hyderabad who suggested the 2019 cars had suspension issues and cars with only 12 miles on them came to him with the suspensions completely shot up. I tried to coordinate a visit when he was in Bangalore but given my wife's schedule I couldn't manage it.
Eventually I decided to contact a local FNG and had my suspension opened up and checked (as the ASCs would be upfront about saying the suspension had no issues at all). Another observation aside from the harsh ride was the car scraping the road bumps, which it had never done before, and the strut mount was an inch or more clear of the body when fitted (the bushing was gone too).
After the struts were opened, the local FNG reported that the struts had been shot and actually had to be replaced. Given my wife's condition and running around in hospitals, I gave him permission to change it. They were replaced with compatible Monroe shock absorbers as the original shock absorbers were not sold from stock and would take a long time to source from Boodmo. It also meant spending money on repairs that ideally should be covered under warranty. It was the first time I realized that buying an extended warranty and service package was a complete waste of money.
I saw the condition of the replaced struts, the piston pushed in without much resistance and didn't come out at all. However, there was no leakage.
The problem after replacing the strut was that the ride quality had suffered for a throw and the car had a lot of body roll, so much so that passing uneven waves caused the woman a lot of discomfort. I contacted the FNG again and they suggested putting in silicone bumpers, which I did and the ride got better after that, but still not as good. Also, on bad roads, there's noise coming in which I suspect is from the steering rack.
I contacted Apple Auto in Whitefield last weekend and the service manager told me they only consider the strut bad if they see leaks and the piston goes in easily and won't come out, that doesn't mean the strut is bad. I also tried to explain the increased scratching of the car to no avail.
I share the videos of pressing the old and new strut piston:
I have a few questions:
Does just a leaking strut mean the struts have gone bad?
I had it checked at the Hosur Road and Whitefield service centers and the support they provided was minimal and I am extremely unhappy with the service. As I always find that OEM products are usually the best and tested, is there a better service center or contact I should contact?
Should I push VW to change the steering rack and suspension under warranty? How should I go about doing this?
Here's what BHPian vishy76 had to say:
My suggestion to you is to change the brand of struts and install Sachs brand dampers. The OE dampers are from Gabriel, which are absolute rubbish. They give up very early and, even when in good shape, have very poor ride and handling balance.

The steering rack might be included in the warranty replacement, but the suspension is not. Having the suspension replaced by an FNG may also allow VW to void your warranty. Here is what my opinion is:

Fit good quality Sachs dampers (these were OE on the Vento/Polo up until 2014 and worked very well. Excellent ride and handling + durability). They're not cheap (around 22,000 for the whole set), but you'll surely feel the difference over Monroes or Gabriels.

A leaking strut doesn't generally mean they've all gone bad, especially on a low mileage car like yours. But like I said, Gabriels are pathetic quality components. You should switch to better dampers. VW OE parts are not always superior parts. This applies in particular to the Polo and Vento. A lot of localization has taken place and the quality of the parts has greatly deteriorated.
Here's what BHPian Turbohead had to say:
Hi,

There is actually nothing to worry about. Suspension and brakes are only guaranteed for 6 months. To be on the safe side, please check your warranty documents.

Are you sure the Monroe struts you ordered were for the Vento? Do you have the old one handy to check if the part numbers are compatible?

Shock absorbers look almost the same on the outside, but stiffness is usually controlled internally with different valving (? not quite sure here). So it's possible that your FNG ordered a part with the same size and travel, but it's not necessarily designed for your car, as the shocks need to match the spring rate.

However, they are unlikely to take the shocks back if you want to swap them out.
For more insight and information, read the comments from BHPians.