Nutson's weekly roundup of auto news from August 28th to September 3rd, 2022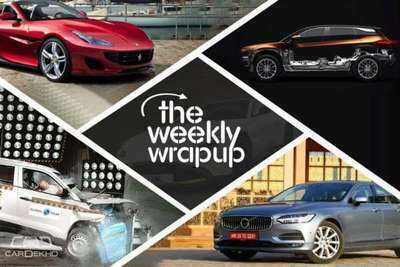 AUTO CENTRAL CHICAGO – September 4, 2022; Every Sunday, The Chicago Car Guy and Auto Channel Executive Producer Larry Nutson, with the expert assistance of Senior Editor Thom Cannell of The Auto Channel Michigan Bureau, compiles The Auto Channel's "take" on the past week's automotive news, condensed into easy-to-understand news nuggets.
LEARN MORE: Complete versions of today's news nuggets, along with thousands of pages of relevant news and opinion, information stored in a library of millions of pages published and indexed on The Auto Channel over the past 25 years. You can find complete information by copying and pasting a heading into any Site Search field.
Nutson's Automotive Weekly Auto News Roundup – Week Ended September 3, 2022 Below you'll find top, relevant, semi-secret or snappy automotive news, opinion and insider backstories from the past week, presented as expertly crafted, easy-to-understand nuggets of news from the automotive universe.
* US new car sales in August showed that the much slower pace of sales that began a year ago is continuing as new vehicle supply remains virtually unchanged. According to the Cox Automotive forecast, the US auto sales pace, or seasonally adjusted annual rate (SAAR), ended month-over-month unchanged at 13.3 million, up from a year ago's level of 13.1 million. August sales volume is 1.14 million units, up 3.6% year-on-year but down 0.3% from July. Ford, Hyundai, Kia and Subaru saw sales increase from the low prior-year level. Not all manufacturers report monthly sales.
*A study by the Insurance Institute for Highway Safety reports that many models' automatic braking systems perform poorly in night tests. Of the 23 models tested, only four received a Superior rating from the IIHS, and more than half received a Basic Score or No Credit. The four vehicles that received the Superior rating were the Ford Mustang Mach-E, Nissan Pathfinder, Toyota Camry and Toyota Highlander. Despite poor night-time performance, 19 of the 23 vehicles performed well in similar daytime tests.
*US DoE Factoid of the Week: Fourteen model year 2022 light electric vehicle models have ranges of 300 miles or more. The 2016 model year (MY) was the first time the Environmental Protection Agency certified an electric vehicle (EV) with a range of 300 miles or more. Over the next five years, the number of EV models achieving a certified range of 300 miles or more slowly increased. However, in MY 2022 the number has almost tripled compared to the previous year. Manufacturers are still introducing MY 2022 vehicles, so additional EV models could be added to the list. To search for new EV models by range go to: https://www.fueleconomy.gov/feg/evSelect.jsp
* The new EV requirements in the Inflation Reduction Act are powerful incentives for automakers to produce batteries in the US. Honda, Ford, General Motors, Toyota, Hyundai-Kia, Stellantis and VinFast have all announced plans for 10 US battery plants. The $7,500 federal electric vehicle purchase credit requires the vehicle to have a battery that was built in North America, with 40% of the metals on the continent being mined or recycled. The demand for electric vehicles is expected to increase. LMC Automotive projects electric vehicles will account for 5.6% of U.S. new vehicle sales this year, rising to more than 36% by 2030.
* Meanwhile, The AP reports that the new federal loan for US buyers of qualifying EVs made in North America has sparked a possible trade war. The EV loan aims to promote domestic battery and vehicle production. Automakers in Europe and South Korea that sell millions of vehicles in the US have threatened to file a complaint with the World Trade Organization. Officials describe the EV credit as discriminatory against foreign manufacturers versus US manufacturers. Stay tuned!
* The Biden administration is calling for a waiver of "Buy American" rules on federally funded electric vehicle chargers to accelerate the rollout of the infrastructure needed to expand electric vehicle adoption. Domestic content regulations state that 100% of steel, iron, and finished goods consisting primarily of steel and iron in federal highway projects must be manufactured in the United States. But only a handful of companies can build fast chargers for electric vehicles that would meet the requirements, according to an application filed by the Federal Roads Administration on Wednesday.
* Christian Levin, CEO of Volkswagen's Traton Trucking Unit, says the future of commercial vehicles will be "battery electric as the dominant technology." Levin predicts a large-scale rollout of battery electric commercial vehicles in Europe as early as 2025. Levin also runs Scania, which has worked with start-ups like electric truck maker Einride and Northvolt, which will supply cells to a battery assembly plant Scania is building . There are an estimated 4 million heavy trucks in Europe.
* The Detroit News reports that major automakers are canceling the revamped Detroit auto show. Overwhelming vehicle demand, insufficient interest, cost and a penchant for more exclusive driving opportunities are among the many reasons major brands are skipping next month's North American International Auto Show. The one-day media program has events from Chevrolet, Ford and Jeep with the expectation that the Chrysler brand will do something too. The show runs September 14-25, after a three and a half year delay due to Covid. President Joe Biden said he will attend the Detroit Auto Show later this month because he is "a car guy."
* High gasoline prices in the spring and early summer prompted many truck and SUV buyers to consider downsizing to smaller, more fuel-efficient versions of trucks and SUVs, according to a Cox Automotive analysis of consumer purchasing data in the Kelley Blue Book. Large truck buyers are also considering electric trucks. Mid-size SUV-goers have hybrid versions on their shopping lists. As gas prices have fallen, consumers are now, to some extent, relapsing into familiar shopping patterns. Purchases of electric vehicles and hybrids lost share in July and so far in August. Purchases of full-size vehicles have increased.
* US new car sales in August are expected to show that the much slower pace of sales that began a year ago is continuing as new vehicle supply remains virtually unchanged. According to the Cox Automotive forecast, the US auto sales pace, or seasonally adjusted annual rate (SAAR), is expected to end August month-on-month flat at 13.3 million from last year's level of 13.1 million. August sales volume is expected to end near 1.14 million units, up 3.6% year-on-year but down 0.3% from July.
* According to industry experts, an electrical fire at a BP refinery in northwest Indiana should not have a major impact on gas prices in the region. If anything, it will slow the price decline. BP's Whiting Refinery is a major Midwestern oil refinery that supplies gasoline, aviation fuel and diesel used in Illinois, Indiana, Michigan and Wisconsin. It is scheduled to reopen in a few days.
* Catalytic converter theft is a major national problem. Thefts in the US are up 1,215% since 2019, according to the National Insurance Crime Bureau. California is the epicenter with 37% of incidents, followed by Texas, Washington, North Carolina and Minnesota. A Carfax study last June found the Ford F-150 to be the number one target, followed by the Honda Accord. Typical replacement costs range from $1,000 to $2,500. Delays in securing the part result in long vehicle downtimes and the need to rent a car beyond the typical 30 days covered by insurance.
* Ford Motor Co. is recalling more than 277,000 2017-20 model year Ford Super Duty trucks and Lincoln Continental luxury sedans. An internal lens on the vehicle's rear view camera has an anti-reflective coating that can degrade over time from exposure to UV rays. The deterioration "may result in an increasingly foggy or cloudy rear camera image," the safety recall report said.
* GM is recalling nearly 121,000 2013-15 Chevrolet Spark vehicles and 2014-15 Spark electric vehicles because the hoods can open unexpectedly while the vehicle is being driven, increasing the risk of an accident. GM previously recalled approximately 89,000 2013-15 model year Sparks in 2014. The recent recall expands the scope to additional vehicles that may experience prematurely corroding hood latches.
* Rivian Automotive Inc. is recalling a small number of electric pickup trucks and SUVs because front seat belt anchors may not be properly secured to the B-pillar and therefore may not adequately restrain an occupant in a crash. The recall affects 207 model year 2022 R1T pickups and R1S SUVs.
* Jalopnik laughed at Fox News for criticizing Prince Harry's "gas guzzling" Audi e-Tron electric SUV. The news channel says the prince's Audi sat idling at the airport for half an hour, pumping carbon into the air. However, the Audi e-tron is battery-powered purely electrically.
* AAA forecasts this will be the busiest Labor Day travel weekend in three years, reaching pre-pandemic levels. More than 80% of people take their car instead of a plane. The trends this year are similar to Memorial Day and the 4th of July weekends. Have a safe weekend!
Take care. Be good.