Electrocution: The rise in UK energy prices is driving the cost of running electric vehicles above that of petrol-powered cars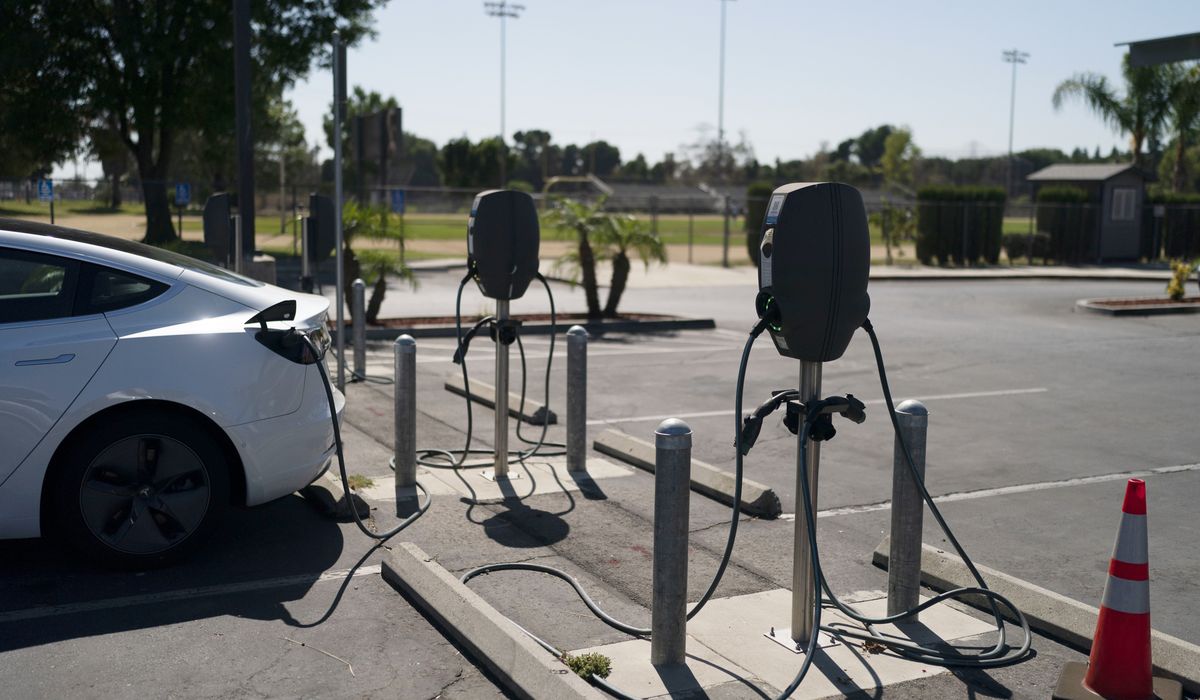 Charging electric vehicles in the UK will soon be more expensive than filling up petrol-powered cars thanks to rising electricity costs – an economic switcheroo that could herald shrinking financial benefits for Americans going green.
UK energy regulators have told electricity consumers they will have to pay 80% more from October 1st. The national price cap for household electricity will push the average bill from about $190 a month to an estimated $343 a month, or more than $4,000 a year.
The shocking price spike comes from the country's limited reserves and Russia's shutdown of one of the region's key sources of electricity generation: natural gas. UK energy prices dwarfed those of many other Europeans because the nation lacks domestic energy storage and production of natural gas, nuclear power and renewable energy, making it more dependent on imports.
Kenny Stein, policy director of the Institute for Energy Research, warned that Europe's financial distress from rising energy prices is an omen for Americans if the US shifts from fossil fuels to renewable energy faster than supply can handle.
"For the US, this actually leads to an underlying misconception of many people who push EVs: They claim EVs are cheaper because they assume electricity prices will stay cheap," Mr. Stein said. "They combine the increased power requirements. That means you have to build a new generation."
The US is making a big shift towards electric vehicles. President Biden's climate spending law is pumping billions of dollars into electric vehicle production and granting tax credits to buyers.
California last week announced a phase-out of sales of new gasoline-powered vehicles beginning in 2026. The deadline for ending sales of new gasoline-powered cars is 2035. Many other Democratic Party-run states are expected to follow California's example.
UK electricity prices will almost double from around 33 cents per kilowatt hour to 60 cents per kilowatt hour, making electric vehicles cost more before and after owners drive them from parking spaces. According to the Energy Information Administration, the average cost of electricity in the US is less than 11 cents per kilowatt hour.
With rising UK electricity prices and petrol prices hovering around $7.40 a gallon, the owner of a $40,000 electric Kia Niro would spend more than $100 more to cover 400 miles than the owner of a $26,000 expensive petrol-powered Kia Sportage, according to analysis by the Royal Automobile Club, the UK equivalent of the AAA.
A $71,000 Jaguar I-PACE would cost almost $115 more to cover 400 miles than its gas-powered equivalent, the $52,000 Jaguar F-PACE.
London-based Electrifying.com has a slightly rosier outlook. It is estimated that the average EV user is now saving 27% on fuel, down from 75% a year ago. With the higher electricity prices, an electric Volkswagen ID.3 crossover driving 10,000 miles per year saves $34 per month in fuel compared to a gas-powered VW Golf of a similar size.
The jump in electricity prices will primarily affect drivers who use public charging stations and pay higher energy taxes. Those who travel long distances or don't have access to a home charger carry more of the burden. The electricity prices at public charging stations shoot up to almost 81 cents per kilowatt hour.
Mr Stein said the US is in a much better position than Britain to weather fluctuating electricity costs as it has more robust production of oil and natural gas for power generation.
According to EIA data for 2020, the most recent year available, the average cost of electricity in California is one of the highest in the country at 18 cents per kilowatt hour. Although costs in California are almost 70% above the national average of 10.59 cents per kilowatt hour, they are about a third of the new UK price.
Rising US natural gas prices have increased electricity costs. In July, Americans' utility bills climbed to their highest level since 2008 and were nearly 90% higher than at the same time last year.
Natural gas is trading above $9 per million UK thermal units. The price a year ago was about $3.50.