Biden's DOJ increases power and rewards political allies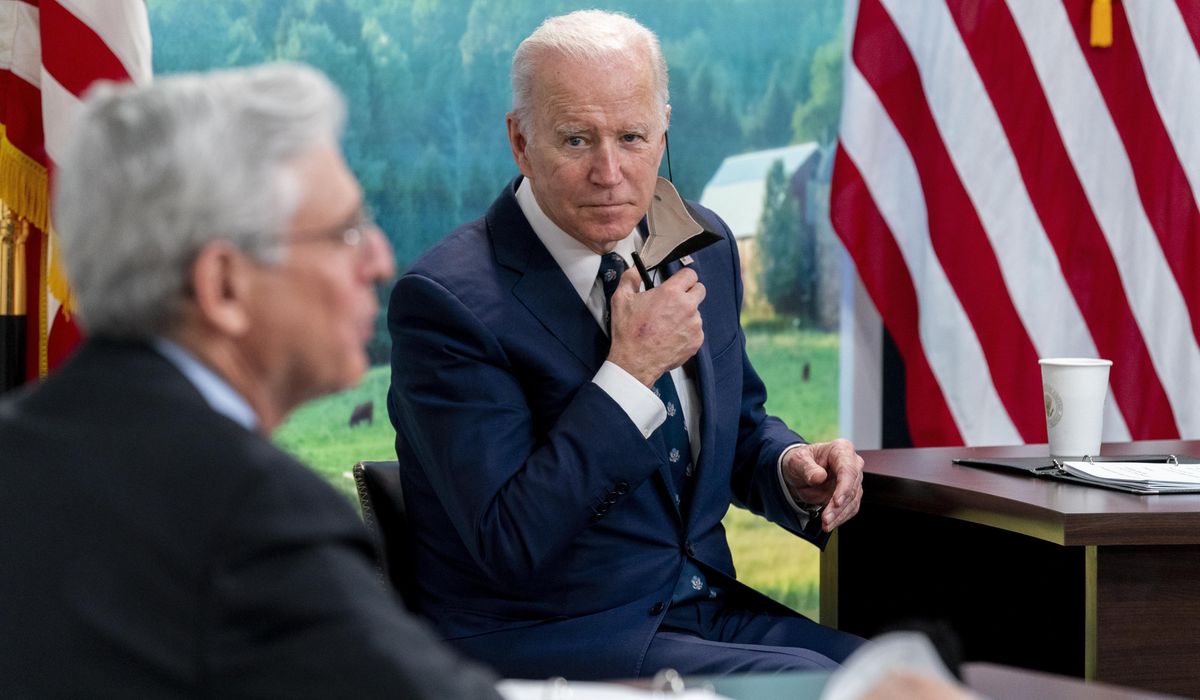 OPINION:
Bad news doesn't get better with age, and neither does a bad legal argument.
Unfortunately, Biden's Justice Department recently proposed reviving a bad — and illegal — Obama-era practice that allowed left-wing activists to control a slush fund to reward their political allies with the public's money. And they want to do it without even bothering to convince Congress to approve the giveaway.
If a politician gave out $100 bills, it would be considered vote-buying. If Congress passed legislation spending $100 billion in hopes of getting votes… well, that's Building Back Better, but at least it would have the fig leaf of legal authority. What the Justice Department is proposing has no legal protection. It's simply taking money that by law should go into the federal coffers and giving it to their friends instead. There's a word for that: theft.
That's how it would work. The Justice Department is suing a company, demanding billions in damages. The Company recognizes that defending against the lawsuit will be expensive, time-consuming and burdensome. Also, there is no guarantee of success.
Then the Justice Department makes the company an offer they can't refuse. If the company agrees to pay money to one or more independent interest groups on an approved list, the DOJ will settle the case, often for a fraction of the amount originally requested and often with a two-to-one credit to the favored group for every dollar donated .
From the management's point of view, this is child's play. You can settle the case with a massive discount. But why would the Biden administration want to settle for pennies on the dollar?
If you're looking for a legal justification, you're looking in the wrong place. It's all about politics here: a way to bolster his political power, reward his political allies, and in some cases bypass the express will of Congress.
Think we're exaggerating?
In the housing settlements stemming from the 2008 financial crisis, the Obama Justice Department distributed funds to fund "housing counseling" programs in the Department of Housing and Urban Development. Congress had withdrawn funds from these programs because HUD had "distributed money to groups like La Raza," a radical left organization.
Then there is the Volkswagen emission control. As one commenter noted, "In 2016, the DOJ demanded that Volkswagen pay $2 billion to fund an electric car initiative that Congress had specifically denied."
These slush fund statements are illegal and unconstitutional. The Trump administration banned the practice. This diversion of funds is exactly what the authors wanted to prevent when they denied law enforcement officials the independent authority to decide the disbursement of federal funds.
Only Congress has the constitutional authority to appropriate funds. And it has enacted a multitude of federal statutes to ensure that the executive branch does not encroach on that authority.
Unfortunately, Attorney General Merrick Garland is trying to do just that — contrary to those laws and the Constitution. His recently issued memo and proposed rule change would allow the Justice Department to engage in these deplorable practices again.
Thirty-five members of Congress, led by Sen. Tommy Tuberville and Rep. Lance Gooden, sent Mr. Garland a letter earlier this month, urging him not to make those changes.
They expressed their implacable opposition to the "government's decision to reintroduce the unethical and controversial practice of forcing defendants to pay settlement funds directly to independent third parties, bypassing the Treasury Department and Congress."
The letter went on to say, "Serious conflicts of interest arise and public trust is undermined when the DOJ requires defendants to donate to DOJ-designated activist groups."
The letter is a good start. But lawmakers should at least conduct scrutiny hearings to find out how widespread the practice is and who is getting money that should have been deposited in the federal coffers. Congress should also clarify that given the illegality and unconstitutionality of this practice, anyone who authorizes or participates in the execution of such a settlement could be impeached and removed from office.
However, as a practical matter, legislators may wish to reserve that appeal to high-level officials such as the attorney general, assistant attorney general, assistant attorney general, or relevant assistant attorney general — all appointed officials — who approve these settlements.
Is this really a time when the Justice Department can afford to erode public trust? Hardly.
But that's what the Biden administration decided to do.
• Zack Smith is a legal associate at the Heritage Foundation's Meese Center for Legal and Judicial Studies. Paul J. Larkin is the center's Rumpel Senior Legal Research Fellow.