Biden tackles range anxiety at EV charging event (1)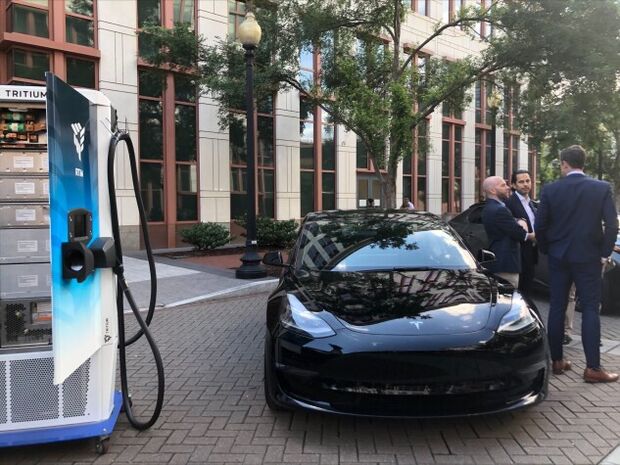 Electric vehicles from Tesla Inc., Ford Motor Co. and General Motors Co. took the spotlight as the Biden administration demonstrated its efforts to move the country's fleet away from gas-powered cars while allaying concerns about range and costs.
"We know we have charging deserts right now and we can't do that, we can't leave the communities behind," David Turk, assistant secretary of the Department of Energy, said Thursday at the Charging Forward event at the Department of Transportation's headquarters.
The Biden administration hopes a new set of standards released Thursday can persuade a broader and more diverse segment of the public to buy electric vehicles. The rule proposed by DOT is designed to ensure states deploy chargers with similar payment schemes, pricing information, and charging speeds.
Previously: Biden officials plan EV equity, charging event
"The standards ensure charger usage is not restricted by memberships, clubs and other gated EV charging networks that require membership payments or juggle multiple apps," said Stephanie Pollack, deputy administrator of the Federal Highway Administration.
The rule would ensure federal dollar-funded EV chargers can charge a variety of EVs, including models from Tesla, Ford, GM and Stellantis NV, according to a DOT data sheet.
The Biden administration is stepping up its electric vehicle efforts to meet its ambitious goal of having 500,000 chargers nationwide by 2030. The Infrastructure Act (Public Law 117-58) earmarked $7.5 billion for charging stations, and states must submit EV charging plans to access the bulk of those funds.
Read more: US agency proposes standards for EV charging station networks
Pollack said states now have "everything they need" to submit plans to the department by August 1. The FHWA is reviewing them on an ongoing basis and will allow states to spend money once the plans are approved, she said.
Pollack said chargers must be every 50 miles along freeways and no more than a mile off the freeway, with some exceptions for rural states. But federal law still limits commerce at interstate rest stops to vending machines, lottery tickets and tourism promotion.
READ ALSO: Biden's $5 Billion Electric Car Plan Skips Interstate Rest Stops
"We tried to be as creative as possible," Pollack told reporters about the rest stop ban. "Maybe not at a rest stop, but maybe at a park and ride, and then we've got a mile from all the exits, so we're very aware that we have to work within the parameters that Congress gave us. "
The push to roll out electric vehicles comes as the government grapples with criticism that gas prices are skyrocketing. The national median price for a gallon of regular unleaded gasoline on Thursday is $4.97, another record according to the AAA.
According to Turk, a full tank of electric vehicles saves an average of $60 compared to an internal combustion engine. But he said the administration is still working to get a new electric vehicle tax credit through Congress, which has stalled as part of the Democrats' broader Build Back Better plan.
"We're trying to make EVs cheaper and cheaper," Turk said. "I am confident that we will get this additional law."
representative Debbie Dingell (D-Mich.), whose state is home to significant auto manufacturing, called the new standards "a critical step."
"To be clear, this is just the beginning. The United States must take continued and aggressive action to ensure electric vehicles are affordable, made in America — with domestic critical minerals and resilient supply chains — and receive increased R&D funding," she added in a statement.
To contact the reporter on this story: Lilianna Byington in Washington [email protected]
To contact the editors responsible for this story: Sarah Babbage at [email protected]; Anna Yukhanov at [email protected]