2022 Volkswagen Tiguan Review by Larry Nutson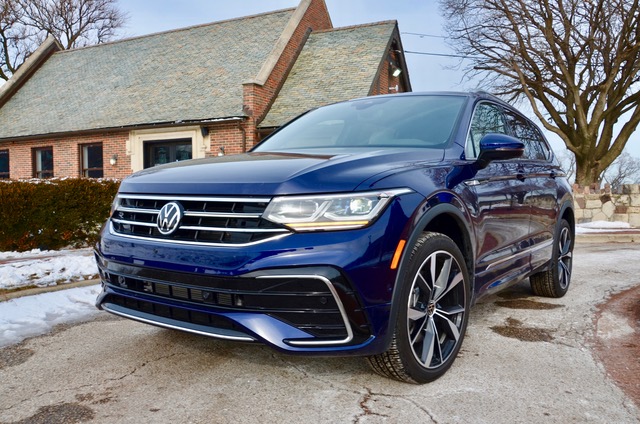 Volkswagen Tiguan 2022

The bestseller from VW
By Larry Nutson
Senior Editor and Office Manager
Chicago office

THE CAR CHANNEL
The Tiguan is Volkswagen's best-selling model in the United States and worldwide. For 2022, the Tiguan has received a refreshed exterior design as well as interior refinements.
The Tiguan is in the compact utility vehicle (UV) segment, which today offers car buyers around twenty different choices. Most compact UVs only have five seats. The Tiguan is one of two compact UVs available with seven seats.
The Tiguan was all-new for 2018, which included making it taller and offering more interior space. Externally, the Tiguan now has a new look, like the Atlas and Atlas Cross Sport. There's a new grille, front fascia, standard LED headlights and an updated VW logo. At the rear there are new standard LED taillights and a new center-located model name of the car line. The standard alloy wheels all have new designs.
On the inside, the steering wheel now has new controls, heated seats are standard, as is VW's 8-inch Digital Cockpit instrument cluster. Other standard equipment features include keyless entry with a start button, Car-Net with Wi-Fi capability, Driving Mode Selection, Front Assist and Side Assist.
All Tiguan have a 184 hp 2.0-liter turbocharged four-cylinder under the hood. An engine idle stop-start system helps reduce both fuel consumption and tailpipe emissions. The engine is coupled to an 8-speed automatic transmission. Both front and all-wheel drive are available.
VW's 4Motion All-Wheel Drive (AWD) features Active Control with four settings: Onroad, Snow, Offroad and Custom Offroad. The Onroad setting also has Normal, Sport, Comfort, and Individual settings. These change the operating parameters of the engine, transmission, steering and adaptive cruise control (ACC).
The Tiguan is available in four trim levels: S, SE, SE R-Line Black and SEL R-Line. Front-wheel drive or 4Motion all-wheel drive are available for the first three trim levels, while the top-of-the-line SEL R-Line comes standard with 4Motion AWD.
Front-wheel drive Tiguan models have a 15.3-gallon fuel tank and EPA-estimated fuel economy ratings of 23 mpg city and 30 mpg highway. 4Motion all-wheel-drive models have a 15.9-gallon fuel tank and are EPA rated at 22 city-mpg and 29 highway-mpg. The SEL R-Line 4Motion is rated at 21 mpg city and 28 mpg highway.
Also note that all front-wheel drive (FWD) models have 3-row seating for seven, while 4Motion AWD models have 2-row seating for five.
Base prices start at $25,995 MSRP for the Tiguan S with FWD and go up to the top-of-the-line SEL R-Line at $36,595. AWD for the three lower fairings adds $1,500, and the destination charge for all fairings is $1,195.
VW's IQ.DRIVE driver assistance suite offers a full range of advanced driver assistance (ADAS) safety features. Fender premium audio, navigation, power liftgate and wireless charging are among the available features.
You can find more information about the Tiguan 2022 at www.vw.com. Options include a sunroof on the SE trim priced at $1,200 and IQ.DRIVE on the S trim priced at $895.
I last drove a Tiguan when this second generation was introduced for the 2018 model year. My driving experiences back then were in the mountainous area around Denver and near my home in Chicago.
This time I drove the 2022 Tiguan, the SEL R-Line with top trim in Atlas Blue Metallic and with a total price of $37,790.
The Tiguan delivers good overall performance with no notable shortcomings when accelerating from a standing start, merging onto freeways and overtaking. Engine noise is well managed and the overall driving experience in the cockpit is quite comfortable.
The Tiguan is well designed and equipped for urban life. It has a well-functioning powertrain, as well as confident handling and a ride that is typical of its Germanic heritage. Cockpit materials as well as fit and finish have a high-quality look and feel. The Tiguan's wheelbase is longer than a typical compact utility vehicle, which benefits from having ample legroom and second-row cargo space. There's also good headroom in the rear seats. With its good looks, the new Tiguan is a good choice for buyers looking for a roomy compact UV, whether they're in urban or suburban areas.
When the "bigger" Tiguan was introduced for 2018, the third row of seats was an option on AWD models. Now it is no more. VW says 4Motion AWD buyers haven't opted to add the third-row seat. Maybe instead they preferred the extra cargo space that the one with no third seat has. According to the numbers, that's 33 cu.ft. versus 37.6 cu.ft.
As of this writing, overall vehicle demand is robust, but supply remains limited for many car brands. There are not too many offers, if any. Traders have limited stock and are interested in earning as much as possible on each sale. The situation is expected to improve by the second half of 2022.
Happy driving!
© 2022 Larry Nutson, the Chicago Car Guy