2021 Volkswagen Arteon R-Line: In pictures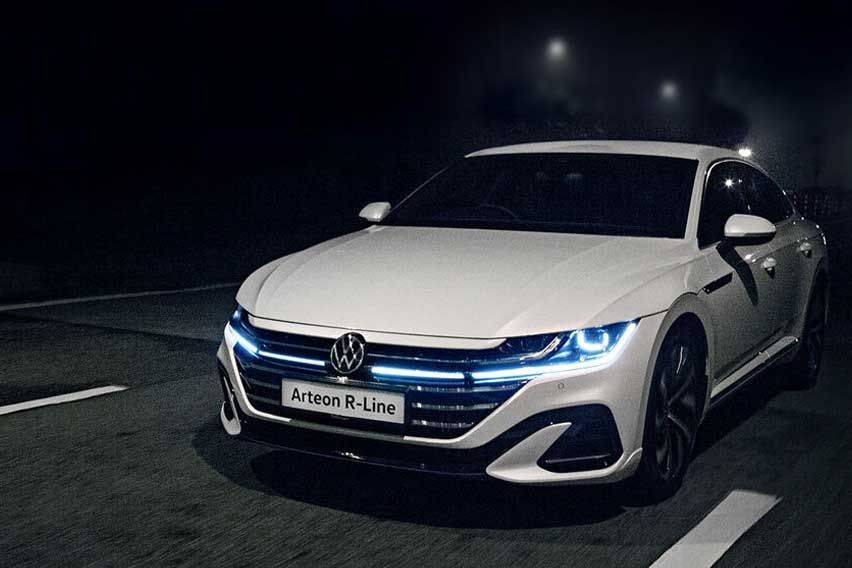 Volkswagen Malaysia launched the Arteon facelift in the country in July this year and is proving to be a great seller for the automaker. The limousine is offered in a single variant – R-Line 2.0 TSI 4 Motion At a price of 248,693 RM that is almost 27,000 RM more than the previous model. It includes a five-year unlimited mileage guarantee and three years of free maintenance.
Note that the prices apply for traveling without insurance and take into account the ongoing SST exemption, which in this case is 100 percent. Why? This is because the Arteon is assembled on site in Pekan, Pahang.
Time to take a close look at the Arteon R-Line 2021 and inspect it piece by piece.
Outside
the new Arteon R line Exterior makes a pretty bold statement with athletic sportiness, expressive design and flowing silhouettes.
R-line styling
The new Arteon looks great from every angle thanks to the R-Line styling with R-Line aerodynamic parts, 19-inch alloy wheels and aggressive bumpers with body-colored air inlet louvers in the front and rear in a black diffuser.
lighting
The sedan's lighting setup includes – full LED headlights, a distinctive LED light strip that extends across the grille.
On the back we see new tinted LED taillights with dynamic sequential indicators and a chrome-look tailpipe.
Easy opening and closing of the tailgate
The sensor-controlled Easy Open tailgate makes every journey super relaxed. While a small movement of the foot under the rear of the vehicle opens the luggage compartment, the tailgate closes when driving away from the car.
Inner
The new Arteon has a luxurious cabin with a new and visually appealing cockpit environment that conveys a feeling of calm and exclusivity.
Digital instrument cluster
The sedan offers intelligent connectivity via the latest-generation digital instrument cluster, which can be easily configured at the push of a button.
Infotainment system
The user-friendly 9.2 inch color touchscreen display manages navigation and connectivity with in-car entertainment. The kit also includes support for Apple CarPlay and Android Auto. In addition, the voice control supports the driver with media selection and route planning while always keeping an eye on the road.
Amazing sound system
The latest VW sedan is equipped with the digital 700 W sound system from Harman Kardon, which is characterized by an elegant design, surround sound and a digital 16-channel amplifier. Thanks to its 12 high-performance speakers, it delivers impressive acoustics.
Leather sports seats
What you see here are beautifully shaped, new ErgoComfort 'Nappa Carbon' leather sports seats with 14-way adjustable seat length, seat height, seat cushion inclination and backrest inclination. The massage function and the electric lumbar support make long journeys even more comfortable.
Automatic air conditioning
The Arteon gets a 3-zone "Climatronic", which ensures a clean and healthy air conditioning in the cabin. In addition, the Air Care 'Climatronic' prevents fungal spores, pollen and particles from entering the car.
Powertrain
Under the hood, the Arteon houses a 2.0-liter TSI four-cylinder turbo mill that delivers a maximum output of 280 hp at 5,100 to 6,500 rpm and a maximum torque of 350 Nm from 1,700 to 5,600 rpm .
7-speed direct shift transmission
The engine is paired with a fast and efficient 7-speed automatic transmission that ensures smooth, trouble-free propulsion. Together with the lightness of the automatic transmission, the DSG offers the fuel efficiency and responsiveness of a manual unit.
Speaking of which, the sedan offers an excellent combined mileage of 13.51 km / l. Its 66 liter fuel tank helps the Arteon travel 850 km per tank.
Security kit
The new Arteon is equipped with a fully integrated safety kit that makes every trip a breeze. The bag contains seven airbags, blind spot warnings, Side Assist, Lane Assist, advanced electronic differential lock, electronic stabilization control, Rear Cross Traffic Alert, Automatic Post Collision Brake System and ISOFIX.
Not to forget, the Driver Alert System reminds the driver to take a break from long, tiring journeys.
In summary, the VW Arteon R-Line 2021 is a super cool sedan with an amazing design, great cabin features, a loaded safety kit and a powerful powertrain. Are you interested in buying one? Check it out at a store near you and don't forget to book a test drive.
also read: Completely new Volkswagen Arteon R-Line 4MOTION: A car with impressive equipment